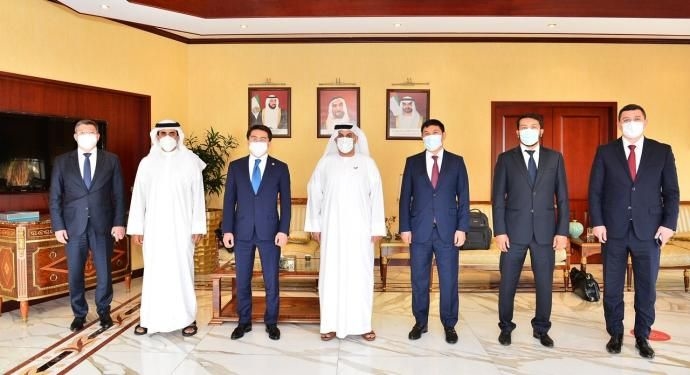 The Kazakh delegation headed by the Deputy Chairman of the Agency for Strategic Planning and Reforms Zh.Madiev paid a working visit to the United Arab Emirates. The delegation included the Vice-Minister of National Economy M.Yusupov, Vice-Minister of Agriculture N.Dairbekov, representatives of the Astana International Financial Center and KAZAKH INVEST.
During the visit, the bilateral meetings were held with the Minister of Energy and Infrastructure of the UAE Suhail Al Mazroui, the leadership of the Chamber of Commerce and Industry of the Emirate of Abu Dhabi, top officials of the largest investment funds and financial organizations of the UAE, such as Mubadala, ADQ and Abu Dhabi Investment Authority.
The visit was organized in accordance with implementation of the Memorandum between the Governments of the Republic of Kazakhstan and the UAE on investment cooperation, signed during the working visit of the Prime Minister of the Republic of Kazakhstan A. Mamin to the UAE in October this year.
During negotiations, the aforementioned investment and financial organizations were presented the reforms introduced in the country, in particular, new instruments for supporting large investment projects under the Strategic Investment Agreement, which provides for stability of legislative conditions and a broad package of preferences.
During the negotiations, the parties considered the prospects for the implementation of investment projects worth more than $ 5 billion, providing for development of new industries with high added value and large export potential in key sectors of the economy.
Thus, during the negotiations, the UAE investors were presented with projects in agribusiness worth about $ 1.5 billion. It is important to note that the proposed projects are aimed at the production of high-quality products included in the group of basic food products within the framework of the adopted UAE Food Security Strategy until 2051.
The joint implementation of projects will allow Kazakhstan to become an important link in the Food Security Strategy being implemented by the UAE and will contribute to the further increase in trade between the two countries.
At the same time, the most promising areas for the implementation of joint projects, expanding the presence of the Emirates side in the Kazakhstan market were identified, and an exchange of views took place on further steps to develop cooperation in the mining, oil and gas chemical, agribusiness and pharmaceutical industries.
The working visit of the Kazakh delegation took place in the light of the tasks of attracting foreign investment in priority sectors of the Kazakh economy and promoting the export of Kazakh goods to foreign markets. In general, it should be noted that the Emirati business demonstrate their readiness and interest in deepening trade, economic and investment cooperation with our country.

Source: https://www.invest.gov.kz/media-center/press-releases/investoram-oae-predstavleny-proekty-na-5-2-mlrd-dollarov/