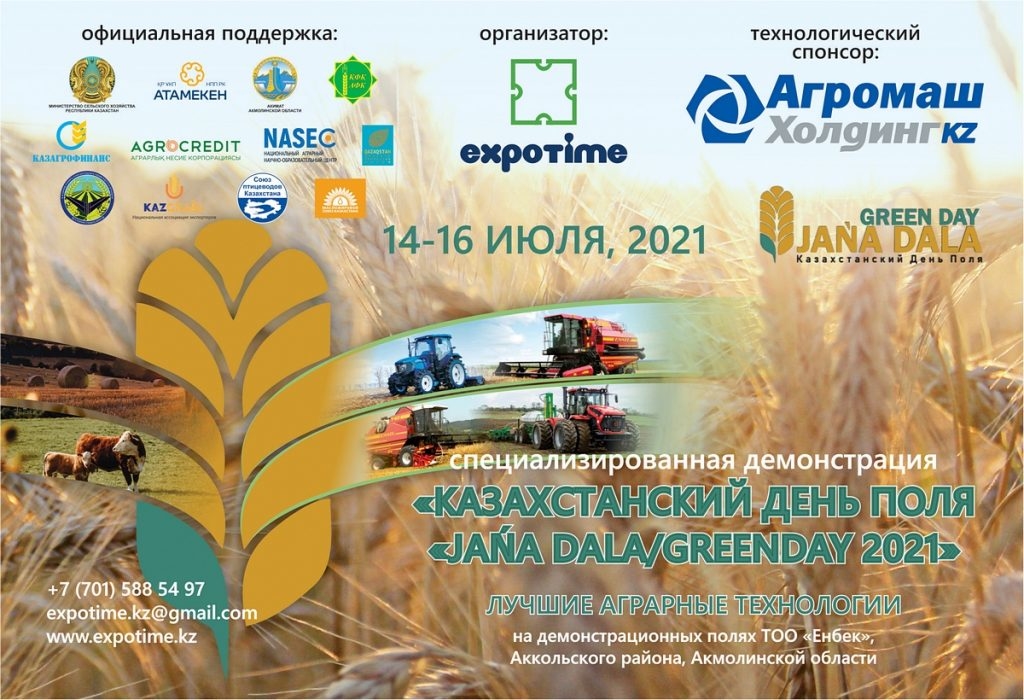 The annual specialized demonstration "Jańa Dala / GreenDay" will be a unique event for demonstrating advanced agricultural technologies!
          On May 26, 2021, the sowing campaign for the Specialized demonstration "Kazakhstan Field Day "Zhana Dala" / "Green Day" 2021 " ends at the demonstration fields of "Enbek" LLP (Akkol district, Akmola region») which will be held from July 14 to 16, 2021.
          The specialized demonstration "Kazakhstan Field Day" Zhana Dala " / "Green Day 2021" will serve as an effective platform for demonstrating advanced developments in the field of agriculture, exchanging experience and developing business contacts between domestic and foreign farmers.
The event is planned in Akkol district, as this area is the locomotive of the agricultural sector of Kazakhstan: in crop production, animal husbandry and especially in organic production. New technologies are used here, production volumes are growing, and a high level of product quality being witnessed here. The products are consumed not only in Kazakhstan, but also delivered to the EU countries.
          Within the framework of" Zhana Dala " / "Green Day 2021", seminars, round tables and master classes are planned. More than thirty companies are ready to demonstrate agricultural machinery and equipment in operation, including a unique demonstration of the robot system "Cognitivilot" aggregated on a combine harvester. And a separate block is planned to hold international conferences: "Qaqaz Organic Food", " Kazakhstan-Ukraine. Technologies. Exchange of experience. Trade", "Digitalization of agriculture" and etc.
On the Kazakhstan field day "Zhana Dala" / " Green Day "NJSC" National Agrarian Research and Education Center " plans to organize pavilions of subsidiaries, Kazakhstani farmers will be able to visit plots with the best domestic varieties of crops of the Aktobe experimental station, the Karabalyk experimental station, the SPCGF named after Baraeva and others.
The event is organized by the Company "EXPOTIME", for more information please get in touch via phone : +7 701 588 5497; expotime.kz@gmail.com  and on the website: https://expotime.kz/